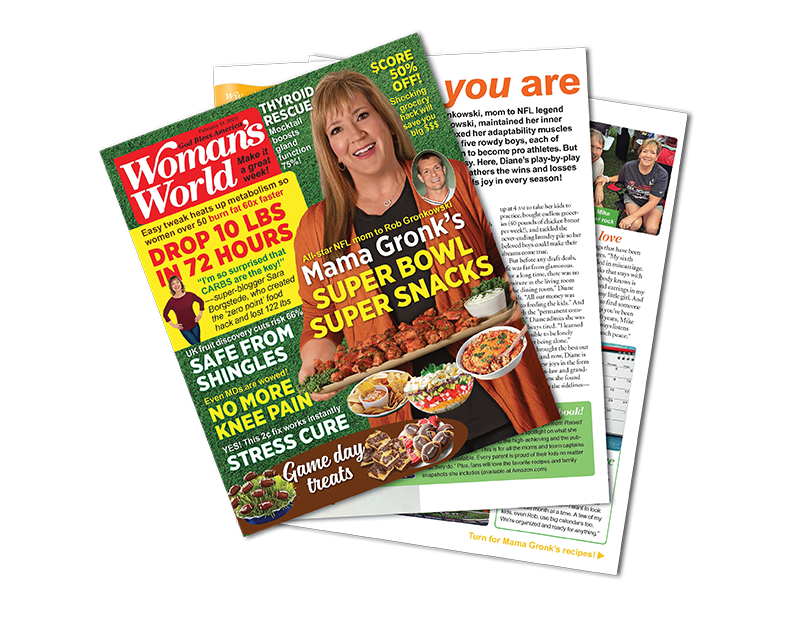 Our hearty congratulations to Diane Gronkowski, author of Outnumbered, for being the cover girl for Woman's World magazine!
In the article, she talks about raising five boys who became pro athletes (four in the NFL, including Rob Gronkowski, and one in the MLB). She discusses her tip about channeling her stress into baking (us too, Diane!), staying positive, and managing a busy family calendar. Plus, she shares some recipes perfect for Super Bowl LVII.
We can't wait to try your tips and recipes! Congratulations again, Diane!
Excerpt from the article about Diane's new book
In her memoir, Outnumbered: How an Average Supermom Raised Five Professional Athletes, Diane shines a spotlight on what she calls "the humble role of parent to the high-achieving and the publicly adored." She says, "This is for all the moms and team captains at home. It's relatable. Every parent is proud of their kids no matter what they do." Plus, fans will love the favorite recipes and family snapshots she includes (available at Amazon.com).
How to get a copy of Diane's issue of Woman's World
It will be on the newsstands from February 2nd to 8th. You can also buy a print version online here or a Kindle version here.
Or you can read it online here.