Let the experts take the reins.
Page Publishing is a full-service publishing house.
We handle all the intricacies involved in publishing your book, getting it into distribution, and generating your royalties. We know that authors need to be free to create – not bogged down with complicated business issues like eBook conversion, establishing wholesale accounts, shipping, and the like. Leave these tedious, complex, and time-consuming issues to us, so you can focus on your passion – writing and creating.
Book Editing
Our editors will make sure your writing is up to the standards your audience deserves.

Book Design
Our artists will give your entire work a professional layout and can create illustrations.

Print & eBooks
Once your printed book is complete, we will convert the title into a digital publication.

Distribution & Marketing
We ensure that every order placed is fulfilled and tracked plus prepare press materials.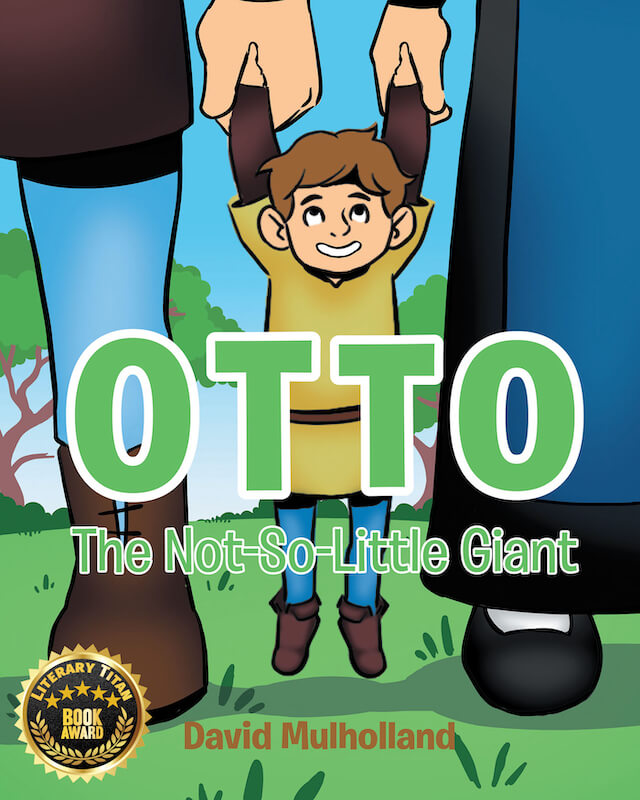 Featured Author
David Mulholland, author of Otto: The Not-So-Little Giant
His book, Otto: The Not-So-Little Giant, is about a young giant that feels different and wants to fit in. Until one day, what makes him unique, helps save the day. David Mulholland was recently announced as the Literary Titan Book Award winner. Congratulations on the award; what an accomplishment!
I have done my due diligence in researching publishing companies. As a representative of Page Publishing, I was assigned David Rodax to guide me through the publishing process. David is the consummate professional. I have come to appreciate his 'coaching' style. David has demonstrated patience, attention to detail, and excellent communication skills. With David guiding me through the publishing process, I felt as if I was the most important author. Thank you David and Page Publishing.
Frank Saponaro, Author of "Living Between the Line" and "Living Between the Lines: Seasons in the Sun"
Page Publishing recently published my first book. It was a very pleasurable experience! Nicole Reefer was my outstanding publishing coordinator. She is competent, reliable and friendly. Building a professional relationship with her meant a great deal, especially for first time authors like me who did not know what to expect. Nicole was quick to respond to all of my questions and was a major help each step of the way. I sensed her genuine willingness to ensure my success and share in the excitement of it all. I would recommend Page Publishing to anyone desiring to publish a book!
Judy Macy, Author of "Aiko's Amazing Adventures"
Page Publishing recently published my book, "The Life and Times, of Me, Myself, and I". I spent 5 months writing the book and 7 months later Page Publishing released my book to the public. My Coordinator, Kendall was a delight to work with. She was always on top of the process and "held my hand" each step of the way. I was most impressed with the press release written for me by Page Publishing! The press release is sure to captivate new readers of "The Life and Times of Me, Myself, and I".
Polly Grace, Author of  "The Life and Times of Me, Myself, and I"
Each department with Page Publishing was great to work with in producing my book. I strongly recommend them. Excellent experience for the success of your published book.
Julia Ann Coleman, Author of  "When Depression is Silent"
I'd like to express my deepest appreciation for the guidance and nurturing support of Lana. It has been a seamless process through all of the various stages, and the overall ease has been frighteningly simple. Page Publishing has provided an affordable avenue for making one's voice heard, and they have stood behind their promised actions without ANY deviation or surprises!
William Richards, Author of  "Four Steps to Infinity"
Publishing a book could be an overwhelming task without the support and expertise of many. I was grateful to have a coordinator to navigate me through each step along the way. Having someone as an advocate was vital, and Trevor was that person for me. I am now considering having a second book published!
Virginia E. Gilbert, Author of  "The Great Noodle King"
Page helped me to achieve a lifelong dream of publishing my first book. I am so grateful for the detailed information and easy to follow publication process. Kelly was amazing. She guided me through the process with grace, competence, & professionalism. She was knowledgeable, positive, and consistently respected my views as an author. I am truly overwhelmed with appreciation and gratitude.
Frances J. Tolbert, Author of  "Summer Clothes for Dayna"
My experience with the Page was excellent. My Coordinator Caitlin was always on task, considerate, and helpful throughout the process. My book has been released to the bookstores, and I am looking forward to working further with Page to market the book. I would encourage anyone who wishes to have a work published to contact Page and seek their help.
Edwin Carpenter, Author of  "Your Personal Power Pyramid"
We want to thank Page and Santiago for their dedication, patience, and advice that encourage us to improve our work, which we finally saw done in our publication. It has been a job done with professionalism and respect for the work. The result has been spectacular. Happy and satisfied with their work! Thank you so much.
Greettel Portal, Author of  "Reflexiones Para La Vida"
I cannot say enough good things about Page! Everyone has been fantastic. Professional, attentive, quick to respond to any questions and every step of the process was laid out for me. A huge thank you to Lisa! She has seen me through the final stages and is always there to answer any inquiries and to keep me up to date on every step. What a pro! And a sense of humor, to boot! Great company to work with for any author!
David Mulholland, Author of  "Otto: The Not-So-Little Giant"
Extremely pleased with the process and the end results of my first book. Page Publishing did everything promised almost exactly on the schedule designed at the beginning. My publishing coordinator Shannon provided continual communication and promptly responded to any questions or concerns. Everyone involved was professional and paid attention to every detail!
Gary Entwistle, Author of  "April's Breeze"
Page has gone above what I expected. Nicole has been a blessing to me. She has always given me updates and offered explanations. She was always available for questions I had. She is very professional, and her attention to detail is amazing. She has been so kind to me. I do appreciate all she has done. I urge any author out there to contact Page. They are the best!
Courtney Ray Mitchell, Author of  "The Carolina Cuckoo"
I can't say enough about my experience with Page. They treated me like I was a world-famous author. Kendall was always there with answers to my questions. At the end of the day, you know Page has done everything they could to provide you the best opportunity not only to sell books, but to have the complete experience of being a published author. You just can't ask for much more!
Joanne Niehl, Author of  "Pittsburgh on Your Plate"
Before choosing a publisher, I reached out to friends who have had books published, and Page was regarded as a first-class publisher. I was assigned Shannon as my Coordinator, and I could not have been more fortunate. Shannon was there any time I needed assistance. As a result, my book was published recently and I could not be happier. I can now identify myself as an official author, and I would not hesitate to recommend Page as my chosen publication partner.
James McGinnis, Author of  "Romeo 1-1: Vietnam Tour"
Page just completed the production process of my book. They are starting the distribution, marketing, & promo phases now. The entire process has been wonderful! Caitlin has been the best contact person. She's guided me through the entire process and has been extremely responsive. I highly recommend Page for your publishing needs and stand by Caitlin as the "go to" person within their organization.
William J. Voller, Jr., Author of  "Prostate Cancer and How It Changed Me"
Let the experts take the reins
Helping writers publish their work since 2012.
Over the years, Page Publishing has helped thousands of people transition from mere writers to published authors. With around 15 thousand books published since 2012, Page Publishing has established a team of highly talented individuals. Our team consists of experts in various fields, including editors, artists, and marketing specialists, all working together to create a stress-free and easy publishing experience.