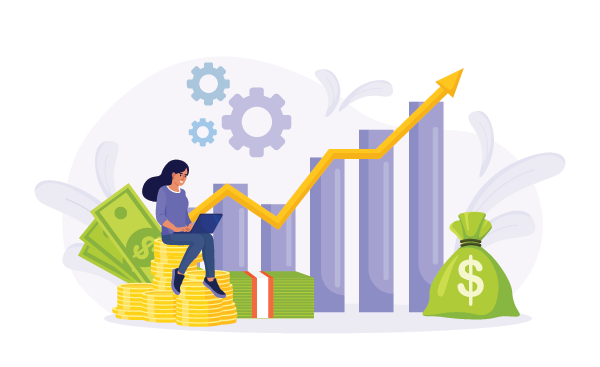 Ask any author if they chose their career for the money, and the answer will be "no." For many, the passion is in the writing itself, and the primary goal may solely be to get their book into the hands of readers. However, that's not to say that you can't make money from publishing a book. Generating more royalties from your book is possible, especially when you partner with a publisher such as Page Publishing.
Our primary goal is to make you, the author, money. We pursue various avenues, including both print and digital formats. Your book's success is in our direct interest because we only take a small slice of each sale (more on that below). At the end of the day, we're proud of the books we publish, and we're eager to promote each title in our catalog to the fullest.
In today's crowded digital world, there are seemingly endless publishing services—but that doesn't mean they're all created equal. Authors should take their time researching companies to make sure they understand precisely what they're getting. Some services offer very little, leaving a giant amount of work to the author, while others (like us!) are full-package options. Bringing a book into the world is much more than just writing and uploading. It takes many steps, including professional editing, formatting, obtaining an ISBN, converting to an eBook, distribution, and the all-important marketing and promotion. The process can be overwhelming for writers, so we take these steps off your plate. We utilize established resources such as in-house editors and cover designers to ensure your book is in perfect, professional condition for publication. When it comes to selling, we connect with all the major platforms to sell your book as aggressively as possible.
So how do you make money?
Unlike traditional publishing, which takes a large cut of each book's sale, our approach flips the model, leaving authors to take home the biggest piece of the pie. All net proceeds from any sale of your book go to you, with Page Publishing taking only a small commission (typically 20 cents) only after you recoup all your costs. That's wildly different from other publishers who keep most of the profits. In the end, we believe you worked hard to write your book, and you should be the one to profit from it.
Here is a breakdown of platforms and royalties and what you can expect to earn:
DIGITAL SALES (eBooks)
Amazon Kindle (KDP):
KDP offers two royalty options. Authors may opt to enroll in KDP Select, meaning that their eBook is exclusive to Amazon for a time. In this option, authors earn higher royalties (70% for books priced between $2.99 and $9.99). If you choose not to enroll in KDP Select (in which case you are "going wide" with your eBook) or have a price point outside the KDP Select range, you will earn only 35% royalty.
So, for instance:
If your book is priced at $2.99 and is enrolled in KDP Select, you would earn about $2.10 per sale. If it's not in KDP Select, you will earn about $1.00.
Some authors feel it is more lucrative to take the higher royalty. However, there are pros and cons to being exclusive to one platform. It may be worth trying both to see how the book sells.
Apple Books, Barnes & Noble, Google Play
On these platforms, eBook authors earn 70% of sales regardless of price point. So, if your book is sold for $9.99, you'll earn $6.99. If it's sold for $2.99, you'll earn $2.00. Unlike KDP, you don't need to be exclusive to earn this higher royalty.
AUDIOBOOKS
Audiobooks, which are on the rise in popularity, work in primarily the same fashion. ACX, Amazon's audiobook platform, also offers authors two options. If you choose to go exclusive to ACX, you will earn 40% for Audible, Amazon, and iTunes sales. If you choose to be non-exclusive and retain the right to distribute elsewhere, you will earn 25% of retail sales.
Audiobook pricing depends on the book's length, and authors cannot choose. According to ACX, the following is the typical breakdown of price points:
under 1 hour: under $7
1 – 3 hours: $7 – $10
3 – 5 hours: $10 – $20
5 – 10 hours: $15 – $25
10 – 20 hours: $20 – $30
over 20 hours: $25 – 35
PRINT SALES (physical books)
At Page Publishing, we work directly with Ingram Content Network, the world's largest book wholesale distribution network. Ingram serves over 40,000 booksellers, libraries, and educational institutions—including big names like Barnes & Noble, as well as local independent bookstores in your town.
When booksellers order your book, Ingram prints and ships to them directly. Page Publishing offers Ingram a wholesale discount, which is then passed on to the retailer. What this all means is that Ingram pays us a wholesale price, we deduct our printing costs, and what's left is the profit that goes to you (minus our twenty-cent commission).
Let's look at an example:
Book's retail price: $19.95
Ingram pays a wholesale price of $9.97
Subtract printing costs: $5.00
Profit: $4.97
Subtract $.20 commission
Royalty to the author: $4.77 per book
Why should you choose Page Publishing to help get you the most money?
All of our authors deserve the same success, so we aggressively make our titles available in as many retailers as possible. Your success is our success! Marketing can be a tricky piece of the publishing puzzle, but with our resources and expertise, we can help publicize your book to bring in more money for you. At the end of the day, publishing your book shouldn't be a headache—that's where a trusted service like Page Publishing comes in. Let us help you bring your book to life!